10-TRACK DEBUT ALBUM SLATED FOR APRIL 28 RELEASE
REFLECTIVE, SELF-PENNED TITLE TRACK OUT NOW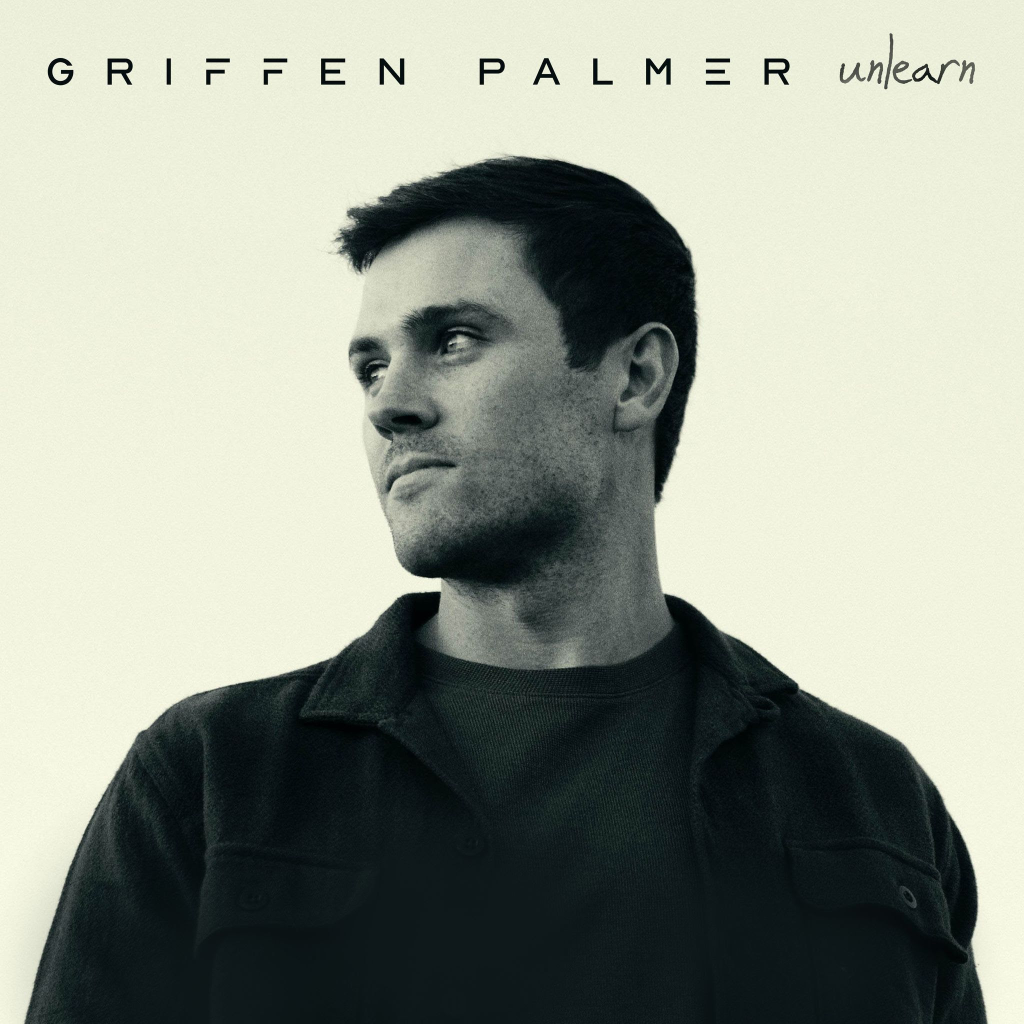 Unlearn Album Art | Courtesy of Big Loud Records 
NASHVILLE, TENN. – When it comes to 27-year-old emerging artist-writer Griffen Palmer, there's always something more; a deeper meaning in a winking lyric, a tricky, switch-laden phrase buried in a three-minute earworm, a story to uncover that's more than meets the eye. On April 28, Palmer will release his anticipated 10-track debut album Unlearn that proves no exception.
"It's been a long time coming," Palmer laughs. "I've been dreaming of putting out my own album for as long as I can remember. It was important to me that we hold on releasing my first album until we had the songs just right, and I'm equal parts amazed and proud of how it has all turned out."
Capturing the rollercoaster experience of life and relationships as a modern twenty-something, the wordsmith arms himself with instantly accessible lyricism, small-town sentiments, real world realizations, and heartbroken ballads across his collection of original songs.
Palmer steers listeners from the first note, kicking off with career-launching waltz "Second Guessing" and jumping headfirst into life giving lessons, both learned and unlearned; from the past due, post-breakup check in of "By The Way," to the dark bar tease of "Came Here To Leave," to regret-soaked drinking song "How Many Beers," and the flirty, simmering standoff of "Bottles On The Table."
Finding solace in music in the early pandemic, Palmer wrote every song on Unlearn with GRAMMY-nominated creative Geoff Warburton (Shawn Mendes, Machine Gun Kelly, 5 Seconds Of Summer). Both natives of Pickering, Ontario, Palmer and Warburton quickly discovered a musical partnership for the ages.
"Geoff and I met by chance because of a house party in my hometown, his girlfriend (now fiancé) introduced us. He took a chance and got to know me, which is when we figured out that we both played for the same rugby club, love a lot of the same music, and eventually realized we like writing together," Palmer remembers. "Geoff's family to me and this record wouldn't exist without him."
Palmer and Warburton's songwriting partnership has also led to outside cuts, like Keith Urban's "Polaroid," and standouts from The Band Camino, Chelsea Cutler, Lily Rose, Jade Eagleson, and more.
"Griff continues to blow me away every time we write," shares Warburton. "He's mature beyond his years, and I think so many people will really resonate with his story. I'm so proud of him and these songs, and can't wait for the rest of the world to hear them."
Brought to life by studio master/producer Joey Moi, the set of Palmer/Warburton one-two punches shows off their knack for crafting ultra-catchy hooks with heartfelt appeal, with Palmer's sharp, crystalline vocal serving as a critical anchor throughout.
Unlearn Track List
1. Second Guessing (Griffen Palmer, Corey Crowder, Ester Dean, Andrew DeRoberts, Tyler Hubbard, Brian Kelley, Shane McAnally, Ben Simonetti, Ryan Tedder, Geoff Warburton)
2. 25 To Life (Griffen Palmer, Geoff Warburton)
3. Unlearn (Griffen Palmer, Geoff Warburton)
4. Put Me Through Hello (Griffen Palmer, Geoff Warburton)
5. By The Way (Griffen Palmer, Jordan Reynolds, Geoff Warburton)
6. Small Town After All (Griffen Palmer, Geoff Warburton)
7. Came Here To Leave (Griffen Palmer, Geoff Warburton)
8. Late To The Party (Griffen Palmer, Geoff Warburton)
9. How Many Beers (Griffen Palmer, Geoff Warburton)
10. Bottles On The Table (Griffen Palmer, Geoff Warburton)
All Songs Produced by Joey Moi
Pre-order / pre-save Unlearn HERE.
Giving a glimpse of what's to come today, Palmer just released Unlearn's powerful, retrospective title track along with its accompanying performance video. Vulnerability on full display, Palmer voices his most personal lyric yet, juxtaposing the journey to "unlearn" beliefs about love and relationships born from his formative years growing up in a divorced home, against the hope and discovery of finding out what love can look like in a relationship all his own.
'Cause my life with you's one I never knew
My best example was far from the truth
And with every kiss that touches my lips
I'm closer to knowing what love really is
Memories take a while to reverse
You got me believing these songs that I've heard
I didn't know it but baby you showed me
That I've got a lot to unlearn
"This one meant a lot to me when we wrote it, and that feeling grows for me every time we play it," Palmer shares. "It's a song that I really needed when I was younger, so I'm hoping that people out there that feel like I did when I was a kid might hear it now. I just hope it makes them feel understood."
Keeping his foot on the gas this spring, Palmer is already taking Unlearn to the stage, delivering a set where his "knack for songwriting is obvious, and he has the vocals to back it up" (Country Swag) in cities nationwide supporting labelmate Lily Rose's 2023 headline tour. The SiriusXM The Highway "Highway Find" isn't slowing down, tacking on a performance at April's Live in the Vineyard Goes Country to his stacked calendar.
"I feel really lucky to be where I am right now," Palmer says with a smile. "I'm touring for the first time, seeing people actually know and sing lyrics I wrote in person. I'm putting out this album that we've been working towards for years. It's been important to me to try to stay human amid any of the pressures and expectations of the business; today, I feel profoundly grateful and grounded and ready."